The first ever Kirros retreat, for coaches and wellbeing practitioners, takes place 17 - 19 May 2024 at Emerson College, East Sussex. Just £350 +VAT per person (excluding accommodation)
In collaboration with The Emerson School of Storytelling and Tablehurst Organic Farm.
The Kirros Retreat weekend is an opportunity to recharge in beautiful surroundings, develop new skills as a coach and facilitator and (re)connect with colleagues in the business of resilience, wellbeing and personal development.
Venue:
Emerson College Campus, Forest Row, East Sussex, RH18 5JX. Find location and directions.
Dates:
Fri 17 May (12:00) - Sun 19 May 2024 (16:00).
Summary of timing and events
Arrive by Fri lunchtime
Group and individual sessions from Fri pm to Sun pm
Accommodation options include camping and camper vans (£15/night) and single and twin rooms rooms (£75/night B&B) with shared bathroom (see below)
Depart Sun afternoon
Session plan
Group session 1 - Insights from the group to support our individual practices
Group session 2 - Storytelling Masterclass with Ashley Ramsden and Roi Gal-Or from the Emerson School of Storytelling to enhance your skills as a trainer and facilitator
Group session 3 - How to nurture Self-Compassion in self and others, with the Kirros Associate teamVegetarian supper (Fri) - in the Garden Dining Room, Pixton House
Tai Chi on the Pixton lawn (Sat)
BBQ lunch (Sat) - at Tablehurst Community Farm, an award-winning organic farm, farm shop and cafe
Pizza supper (Sat) - from the Emerson wood burning pizza oven, with meat options available!
Live music (Sat evening) - in the Pixton music room
Group session 4 - The application of behavioural science in supporting clients in sustainable change. Matthew Critchlow from Kirros will share insights from health psychology including Social Cognitive Theory, that can be applied to coaching practice
Group Session 5: Reflective learning
Accommodation
You can book accommodation directly via the Emerson website Stay at Emerson.
Garden Dining Room - Pixton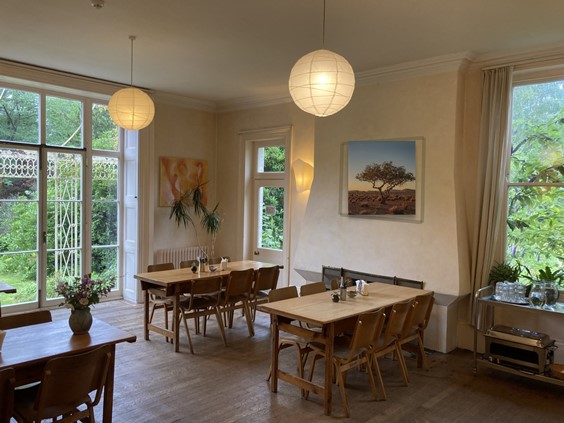 Tablehurst Organic Farm