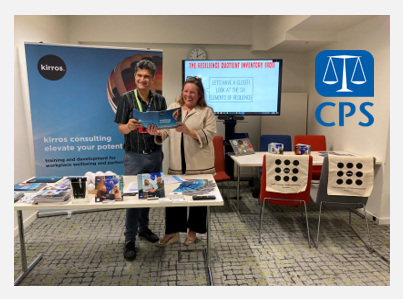 Kirros were delighted today (6 Sept 2022) to host a training exhibition at the Ministry of Justice (MoJ) in London, in collabration with the Crown Prosecution Service (CPS).
We showcased new and existing courses to CPS and other staff across central government. We also delivered impromptu taster sessions for a few lucky people. Courses with strong interest included Personal Resilience, Mindful Working and Goal Setting for Success.
We were also very honoured to be invited to join Rt Hon Brandon Lewis, the new Lord Chancellor and Secretary of State for Justice, for his welcome speech to MoJ staff in the atrium (above). We really feel like part of the team!
It was fantastic to catch-up with previous training attendees, some of whom have progressed to great things at the CPS. I met an old friend and CPS employee who took part in one of my first wellbeing programmes at the CPS in Bexleyheath about 14 years ago!
Thank you to all our CPS friends and colleagues who supported the event, including Lionel Idan (Chief Crown Prosecuter, London South). A huge thanks to our friend Parhit Kalia (London South Learning and Development Manager) for inviting us to attend the event and to Christina Lewin-Smith (in the pic above) for helping coordinate.
A new 'joined-up' way to tackle stress and boost resilience in the workplace
Download our report to uncover a new approach to tackling stress and enhancing resilience and wellbeing in the workplace.