Today, Thrive Training officially anounces its company name change to Kirros Consulting. This is to mark the milestone of 10 years in business and our expansion into overseas markets. We're celebrating with a liove event on 10th Mar at the Southbank Centre in London, next to our new global headquarters.
The new name Kirros is derived from ancient Greek "καιρός", meaning 'an opportune moment'.
This reflects the aim of Kirros Consulting to empower employees to seize the opportunity and invest the time in their mental resilience and personal development. This will result in more productivity, greater well-being and a stronger mindset for employees.
Matthew Critchlow, MD of Kirros Consulting said, " Today we are introducing Kirros to help businesses and their people around the world. Now, more than ever, we want to address the need for improved wellbeing, greater resilience and optimised performance in the workplace with our award-winning training courses and psychometric programmes ."
About Kirros Consulting
We are a global consultancy specialising in employee wellbeing, resilience and performance. We design ground-breaking products, such as the Resilience Quotient Inventory™ (RQi™), the best-studied and most comprehensive resilience psychometric in the world.
Our Resilience Training, Corporate Training & Coaching and Employee Wellbeing programmes have helped over 10,000 people in 32 countries, in some of the world's most successful organisations, including Microsoft, Johnson & Johnson, and Imperial College London.
Our values
As Kirros grows, having a strong company culture is important to us to ensure that we remain a robust team even while expanding. Our Kirros Values represent the heart of our culture. They embody who we are, what we believe in and what connects our team together. Our Kirros core values guide all aspects of our business as our daily benchmark for our clients and our employees.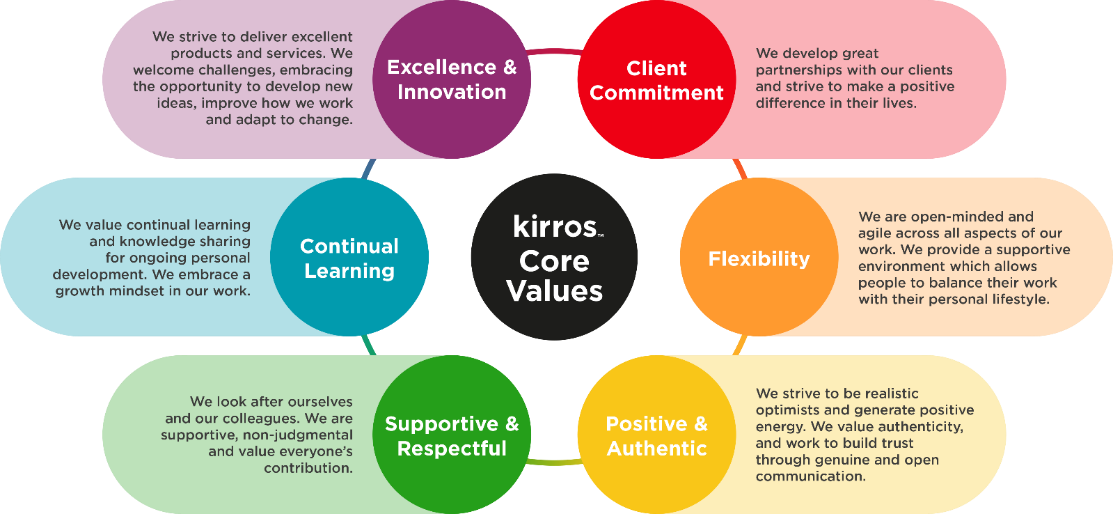 Our mission
We are a global consultancy dedicated to enhancing employee wellbeing, resilience and performance. We design and deliver ground-breaking training solutions, including the RQi™, our scientifically proven programme which equips people with the skills to raise resilience and thrive.
RQi = Resilience Quotient Inventory™
Our vision
A world where people maximise their potential and thrive, both personally and professionally.
Media Contact:
Matthew Critchlow
MD, Kirros Consulting
+44 (0)800 471 4734
A new 'joined-up' way to tackle stress and boost resilience in the workplace
Download our report to uncover a new approach to tackling stress and enhancing resilience and wellbeing in the workplace.